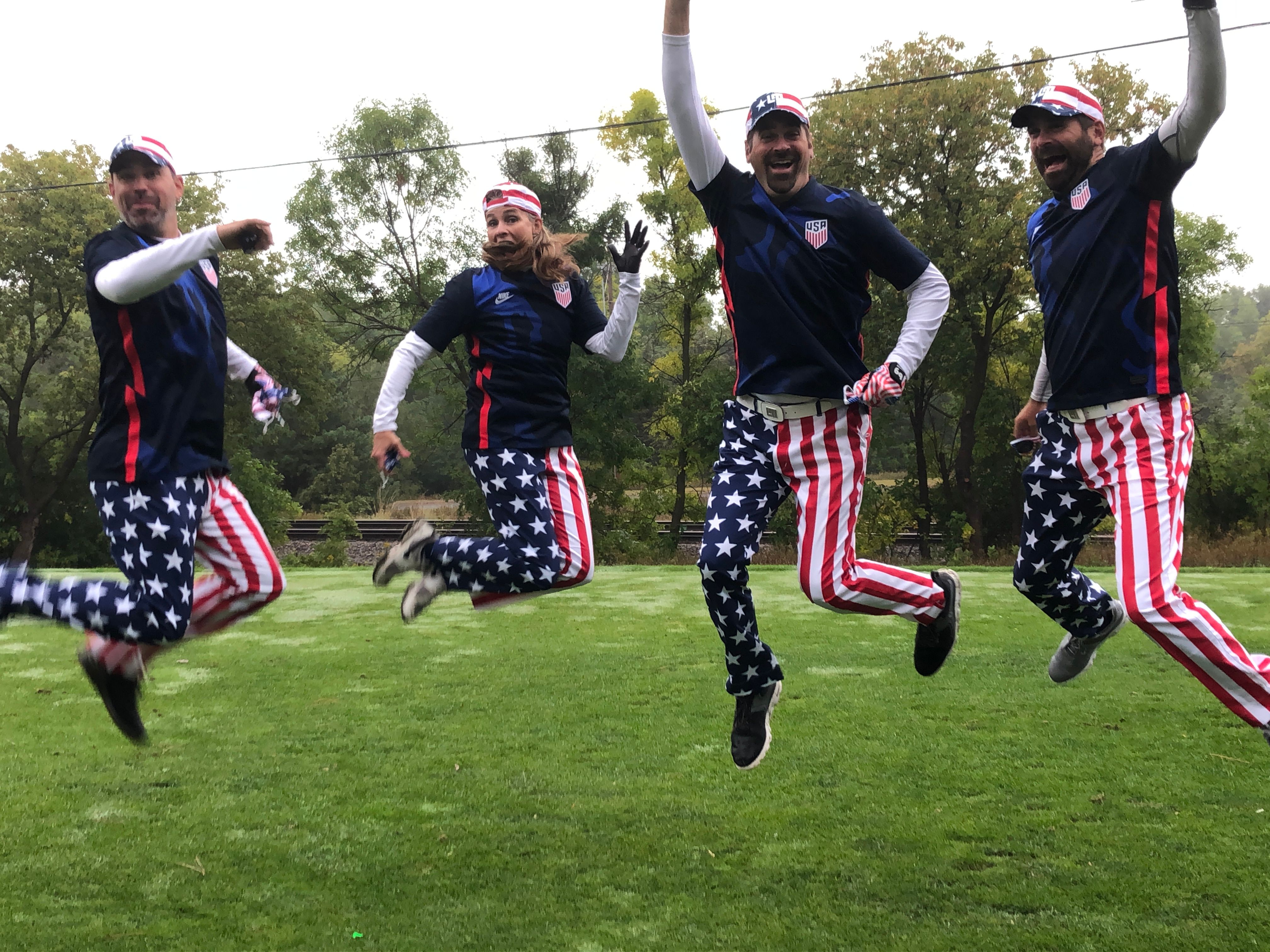 ANOKA, MINN. — This year's Anoka-Hennepin Educational Foundation's (AHEF) "Putt-ing Kids First" annual golf tournament raised an estimated $20,000 for the district's students. This was the 61st annual tournament benefiting the 38,000 students in the Anoka-Hennepin Schools.
Despite the cooler and wet weather, more than 115 golfers and 40 sponsors came together at Green Haven Golf Course in Anoka Sept. 12 for the best-ball scramble tournament, according to AHEF director Tess DeGeest.
"Our golfers come to have fun and to show their support for our students and schools," she said. "With the help of great volunteers and sponsors we are able to put on a fun and successful event. And as I like to say, it's all for the kids."
The tournament's unprecedented success is a direct result of the people involved, DeGeest said. Help from volunteers like Becky Popek, teacher at Adams Elementary School, and Deb Shepard, principal at Sunrise Elementary School, makes a huge difference.
"It's clear our community has a strong commitment to our youth, as our golfers come out to support our students rain or shine," said Shepard. "Our supporters lead by example showing that nothing will stop them from helping kids. This event is also a great opportunity for us to share specific stories on how their generosity has impacted our schools."
This year winning women's team scoring a 74 (one over Par) was Team Chamberlain (Sonja Chamberlain, Connie Brock, Cheryl Kish, Sally West, and Laurie Rykkeli and the top overall team scoring a 52 (19 under Par) was Team Danny Sievers (Danny Sievers, Jake Amiot, Mickey Sugar, Jack Bushey, and Matt Smith.
Notably, Team Elementary Principals (Paul Anderson, Rolf Carlsen, Jeff Clusiau, and Scott Johnson had their best golf day ever, coming in third overall with a score of 60 (12 under Par) just behind Team Claussen who scored a 58.
Other skill game winners were:
Men's closest to the pin: Jack Kirk          Women's closest to the pin: Tracy Ward
Men's longest drive: Matt Smith              Women's longest drive: Sara Woolsey      
Men's longest putt: Dan Zezza               Women's longest putt: Connie Brock
The AHEF "School Cup" is a traveling trophy to spur some friendly competition among schools. This year it was won by Team Claussen. Jenn Claussen teaches at Oak View Middle School and Joe Claussen teaches at Roosevelt Middle School and they were joined by their friends Rod and Ryan Swenson. 
This year's "best dressed" team award was also won by Team Claussen who was decked out in matching American Flag gear.
"I challenge anyone to find a tournament with this longevity for public students and schools. Every year, we have current and retired superintendents, principals and teachers golf with our sponsors and vendors because they believe so deeply in the cause." These are compassionate people dedicated to creating equitable and innovative experiences for students in Anoka-Hennepin, DeGeest said. "I couldn't be more appreciative of our fabulous golfers, donors, volunteers and sponsors."
Next year's tournament is already scheduled for Saturday, Sept. 11, 2021.