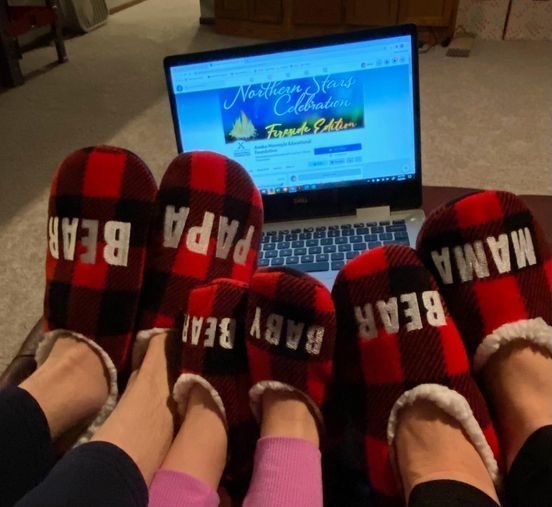 The Anoka-Hennepin Educational Foundation's (AHEF) 26th annual Northern Stars Celebration on Saturday, February 6 was a great success, with donors and sponsors giving over $61,000 for the Anoka-Hennepin students, schools, and foundation.
"Once again, our donors went all in and we can't thank them enough," said Lynn Montgomery, event chair and board secretary for the AHEF. "We have such depth of support from our community, from our business sponsors and from within the district.  As a grandparent of two students in the district and as a volunteer, it's very affirming."
This year's celebration was a virtual event, hosted, produced, and livestreamed in partnership with North Metro Television in Blaine. "Like so many others, including our teachers and students, we had to adapt to the reality of the pandemic and not being able to have 300 guests in person," said Tess DeGeest, executive director of the AHEF.
The Northern Stars is an annual celebration of quality education in the district. This year's celebration included an online auction and games with a short program highlighting students talking about how they have persevered through the year and what they have learned about themselves.
The program was co-emceed by DeGeest and Coon Rapids High School student Imani Harris. Harris summed up her gratitude for her teachers saying "You are the frontline heroes for us students and you have been there for us throughout the year. We miss you and can't wait to be back with you."
Funds donated will connect and engage students in all learning models, distance, hybrid and in person. "Our sponsors and donors are the real heroes here, they are the ones closing the opportunity gaps for our students," DeGeest emphasized.
Next year's celebration is set for February 12, 2022 at the Bunker Hills Event Center in Coon Rapids. "Events like this are a great excuse to dress up, go out, and have fun while raising money for a great cause, our kids, and after this year, I think we will all be ready to celebrate in person" said DeGeest.
This year's sponsors included the Presenting sponsor, Metro Sales; Gold sponsors Connexus Energy and ATS&R; Silver sponsors Delta Dental of Minnesota Foundation and Wells Fargo Private Bank; and Bronze sponsor Jorgenson Construction. The dessert sponsor was Headway Emotional Health. Table sponsors included Superintendent Law, Barna, Guzy & Steffen, MidwestOne Bank, Scheller Legal Solutions, Felhaber Larson, Northeast Bank of Minnesota, Anoka Rotary, and Anoka-Hennepin Education Minnesota.