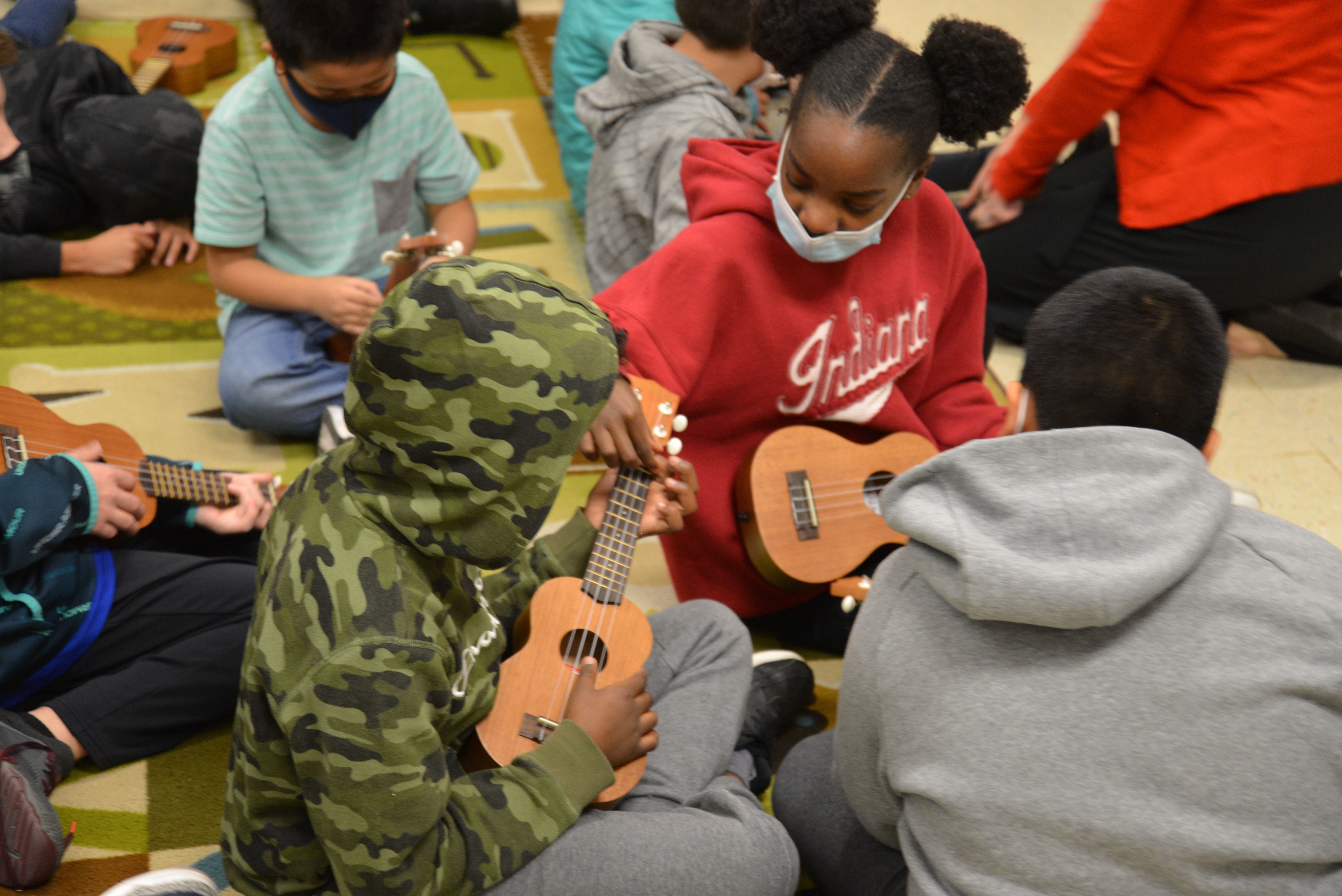 The soothing sounds of the ukulele, reminding passerbys of the islands of Hawaii, can be heard in the hallways coming from the music room at Evergreen Park Elementary: STEM School of Innovation.
Rebecca Stolee, music teacher at Evergreen Park, was the recipient of a grant from the Anoka-Hennepin Educational Foundation (AHEF) to purchase ukuleles to be used by fifth grade students. Many will remember learning how to play the recorder as a fifth grade student, but the ukulele may be taking over as the instrument of choice from music teachers, for a variety of factors. View photos of students learning to play the ukulele at Evergreen Park.
One of the reasons behind the switch from the traditional recorder to the ukulele was due to the COVID-19 pandemic, but the instrument, growing in popularity in music classrooms across the country, offers students the opportunity to learn a string instrument that is transferable to many others. 
"I wanted them (the ukuleles) to be a way to enhance our curriculum," Stolee said. "After doing some research, I discovered that many of the songs my students learn starting in kindergarten work well with ukuleles."
Students begin by learning one cord at a time and Stolee uses songs and rhythms they already know. 
Although the ukuleles are here to stay, she did promise her fourth grade students the opportunity to learn the recorder in the spring, before they advance to the ukulele in fifth grade. 
Stolee has also seen some creativity from her students, including one fifth grader who in the middle of a class broke down a solo of "Happy Birthday," much to the surprise of the teacher and classmates. 
"The students have absolutely loved learning to play," Stolee said. "It is fun to see their excitement and knowing that students are going home and playing on one of their own, or a sibling's string instrument, is great to hear. They (her students) often surprise me with what they are able to come up with on their own."
Because of the generosity of AHEF donors, Stolee was able to purchase 24 ukuleles for her classroom and with the help of her husband, who created the storage racks, and Travis Smith, buildings and grounds supervisor at Evergreen Park, the instruments are displayed prominently on the wall in her classroom.
"The gift of the AHEF grant is amazing," Stolee said. "Knowing that I can dream of different ways to enhance my students' music education and it can become a reality is encouraging. I have encouraged other staff to apply because the AHEF makes the process simple and wants to hear about our dreams as educators."
"Putting ukuleles in the hands of elementary kids is core to AHEF's mission." said Tess DeGeest, executive director of the AHEF. "Our donors get to feel great knowing they made this new experience possible with their donations."
Ramsey Elementary School also received grant funding from the AHEF to purchase ukuleles to enhance the music curriculum.