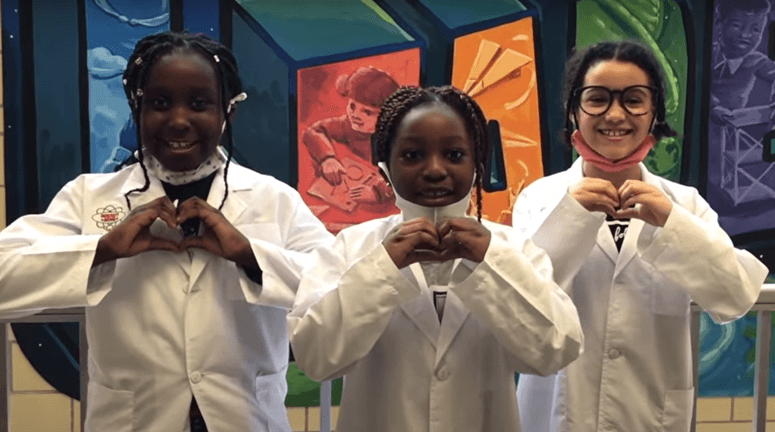 The Anoka-Hennepin Educational Foundation's (AHEF) 27th annual Northern Stars Celebration on Saturday, February 12 was a great success, with donors and sponsors giving an unprecedent $72,000 for the Anoka-Hennepin students, schools, and foundation.
"Once again, our sponsors and donors went all in and we can't thank them enough," said Lynn Montgomery, event chair and board secretary for the AHEF. "We have such depth of support from our community, from our sponsors and from within the district.  As a grandparent of two students in the district and as a volunteer, it's very affirming."
This year's celebration was a virtual event, hosted, produced, and streamed in partnership with North Metro Television in Blaine. "We had to adapt to the ongoing reality of the pandemic and decided, out of an abundance of caution, to not risk having 350 guests, many of them teachers and staff, in person," said Tess DeGeest, executive director of the AHEF.
The Northern Stars is an annual celebration of quality education in the district. This year's celebration included an online auction and games with a short program highlighting the impact donors have had by supporting student learning across the district. You can watch the Northern Stars Celebration here: Northern Stars Program. The program highlighted teacher and staff implemented grants across the district and included ukuleles, calming kits, international food toys, java work experience, and browsing boxes.
The program was co-emceed by DeGeest and Kim Allen, former board member, volunteer, and director of secondary curriculum and assessment for the district. Allen summed up her gratitude for donors by thanking them for "spending their Saturday night filling in the gap between what can be funded in our schools and what needs to be funded by community support."
Funds donated will support student mental health and teacher and staff innovation. "Our sponsors and donors are the real heroes here, they are the ones closing the opportunity gaps for our students," DeGeest emphasized.
Next year's celebration is set for February 11, 2023 at the Bunker Hills Event Center in Coon Rapids. "Events like this are a great excuse to dress up, go out, and have fun while raising money for a great cause, our kids. I think we are more than ready to be back in person next year," said DeGeest.
This year's sponsors included the Presenting sponsor, Metro Sales; Platinum sponsors Connexus Energy and the Ramsey Lions Club; Gold sponsor Wells Fargo Private Bank; Silver sponsors Medica, ATS&R, and First Student; and Bronze sponsors Jorgenson Construction, Anoka-Hennepin Education Minnesota, Scheller Legal Solutions, LLC, and MidwestOne Bank. The dessert sponsor was Headway Emotional Health. Table sponsors included Superintendent Law, Loffler, Barna, Guzy & Steffen, Felhaber Larson, Northeast Bank of Minnesota, Delta Dental, and ECSI System Integrators. The Valet sponsors were Mike Kraft Architects and Anoka Rotary. The North Metro Mayors Association was an in-kind sponsor.