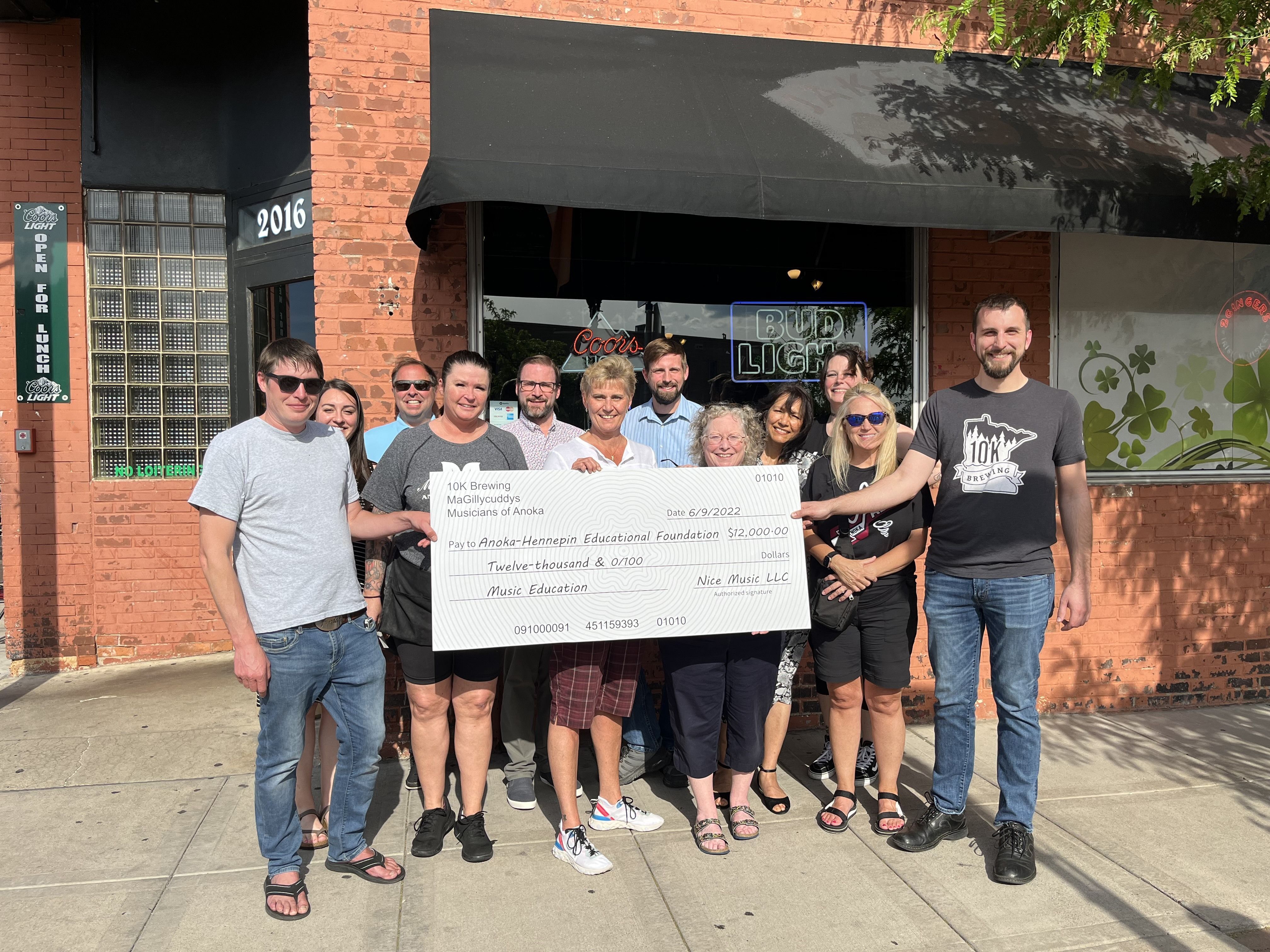 Brought together by their love of music and Anoka, 10K Brewing, MaGillycuddy's Pub and musicians of Anoka have generously gifted the Anoka-Hennepin Educational Foundation $12,000. AHEF is the nonprofit partner of the Anoka-Hennepin School District, cultivating equitable and innovative experiences for students. These donated funds were raised through the "Jams at the Dam'' events held in Anoka, as well as Nice Music, the affiliated nonprofit organization, which focuses on, "Providing resources and support for underfunded K-12 music programs, students who cannot otherwise afford instruments through no fault of their own and scholarships for higher education" (Nicemusic.org). 
10K Brewing, which opened in 2015, has become a hotspot in downtown Anoka for live music and entertainment. Jesse Hauf, the owner of 10K, has a passion for local music and Nice Music's gift to AHEF is just another way that Hauf and his partners are supporting music in our community. 
The funds from this donation will purchase a new set of drums for a World Drumming class being offered this fall at Anoka High School. Remaining funds will repair donated musical instruments for students who could not otherwise afford to play in their school's band or orchestra. 
"The average instrument repair costs $85, with some costing as much as $150 depending on the instrument and how much work needs to be done," said Tracy Ward, Teaching and Learning Specialist for Anoka-Hennepin Schools. "Without donations like this, these used instruments wouldn't be usable and some kids wouldn't be able to participate in band or orchestra. 
AHEF manages the Encore! Fund to support music education in the district. Because this is an ongoing need, donations to the fund are welcome. Learn more about the Encore! Fund and other ways AHEF partners with local businesses and communities at https://www.ahef.us, or contact AHEF at 763-506-1105.