Annual "Putt-ing" Kids First golf tournament a smashing success! Save the date for next year's tournament - Saturday, Sept. 7, 2024. Registration will open June 2024.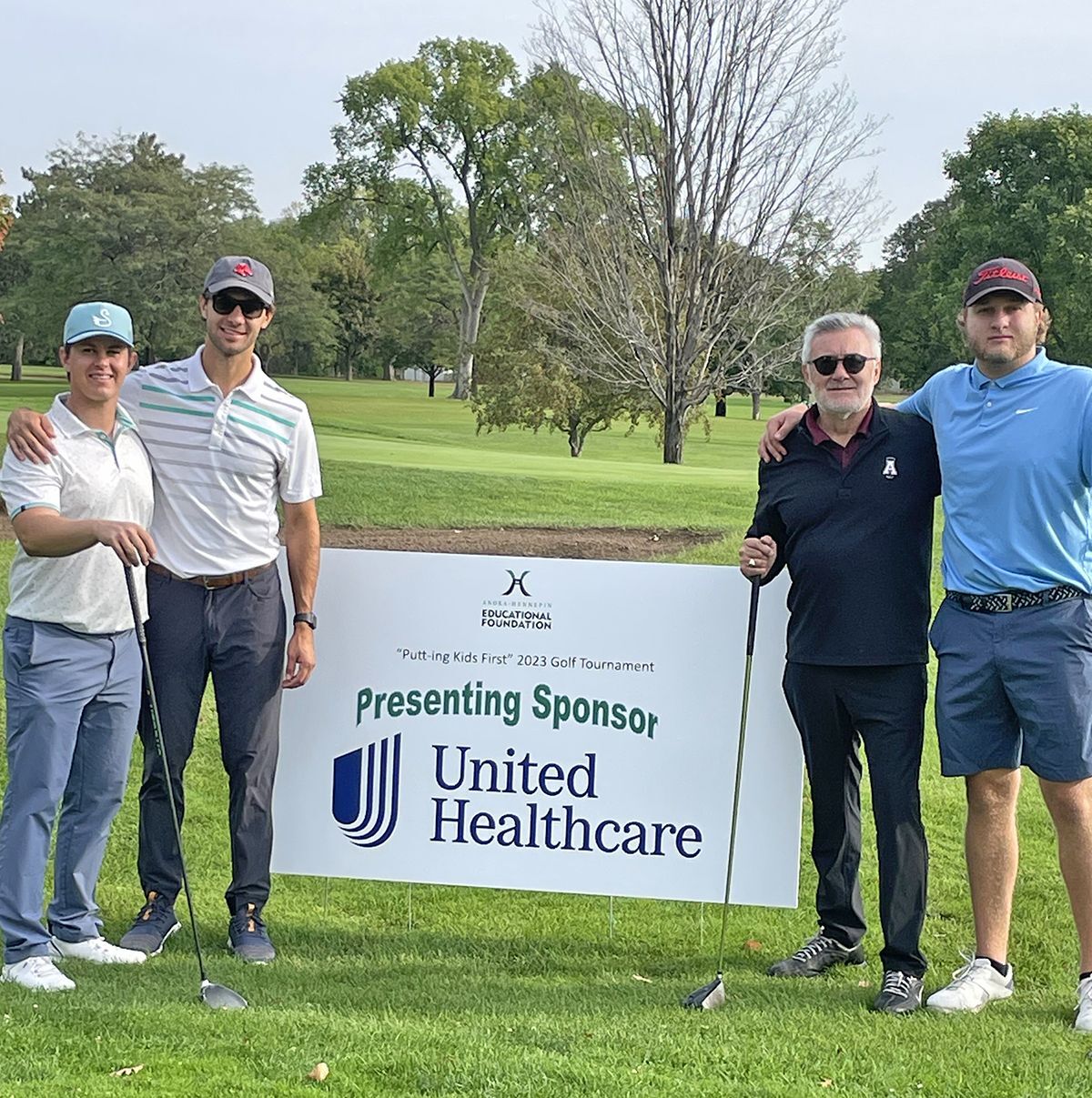 Sept. 12, 2023
ANOKA, MINN. — This year's Anoka-Hennepin Educational Foundation's (AHEF) "Putt-ing" Kids First annual golf tournament, presented by United Healthcare and First Student, raised a record-setting $35,000 for the district's students. This was the 64th annual tournament benefiting students in the Anoka-Hennepin Schools.
156 golfers on 36 teams, and 54 sponsors came together on a gorgeous fall day at Green Haven Golf Course in Anoka Sept. 9 for the best-ball scramble tournament, according to AHEF director Tess DeGeest.
"Our golfers and sponsors come to have fun and show their support for our students, schools, and foundation," she said. "With their generosity, we are able to put on a successful event that makes a huge difference. As I like to say, 'it's all for the kids.'"
The tournament's unprecedented success is a direct result of the people involved, DeGeest said. Help from 30+ volunteers like retired Principal Gwen Sherburne, and Melissa Hayes, director of Special Education for Elementary Schools, for example, add to the success of the day.
"I have volunteered with AHEF for several years now and didn't want to miss out on another fun event," said Sherburne. "Our golfers and sponsors are so fun and generous. It's rewarding to see and thank them, knowing they are here to support our students and schools."
The winning women's team with a score of 74 was Team Becky Brodeur (Becky Brodeur, Associate Superintendent for Middle Schools, Jill Alton, Assistant Principal at Coon Rapids High School, Lisa Gerth, Assistant Principal at Anoka Middle School, Courtney Piekarski, Assistant Principal at Andover High School, Shannon Kubicek, Assistant Principal at Blaine High School).
The top overall team with a score of 54 was Team Cory McIntyre (Cory McIntyre, Brian Severson-Hall, Bryan Bass, Mark Willrodt and Tony Johnson).
Ryan Palmsteen, Team United Healthcare won the 55-inch, HD, flat screen television raffled off by First Student and dozens of other golfers won mulligan prizes ranging from Baldamar gift cards, a Bluetooth speaker, rangefinders, a golf bag, and Yeti coffee mugs, to name just a few.
Skills Prize winners were:
Closest to the pin for women: Anne Sullivan
Closest to the pin for men: Steve McMahon
Longest drive for women: Linda Fenwick
Longest drive for men: Wayne Hanson
Longest putt for women: Katie Stone
Longest putt for men: Tim Feine
Save the date now for next year's tournament scheduled for Saturday, Sept. 7, 2024. Registration will open June 2024.
Photos of the tournament can be found here.