Donors, sponsors give generously at the Northern Stars Celebration 2023 Live!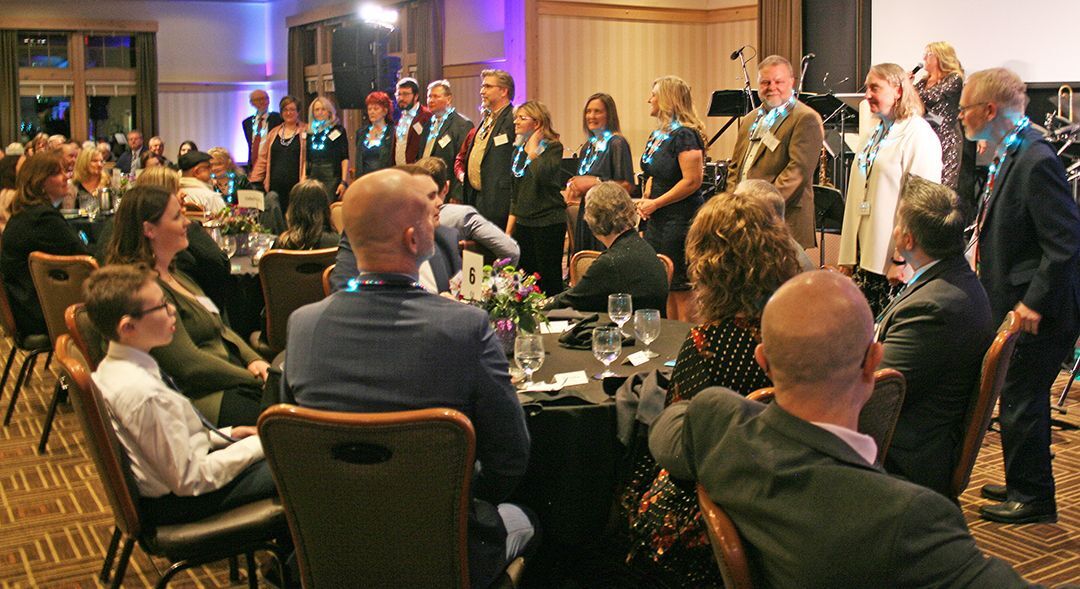 The Anoka-Hennepin Educational Foundation's (AHEF) annual Northern Stars Celebration on Saturday, February 11 was a great success, with donors and sponsors giving an unprecedented $84,000 for the Anoka-Hennepin students, schools, and foundation.
"Once again, our sponsors and donors went all in and we can't thank them enough," said Lynn Montgomery, event chair and board secretary for the AHEF. "We have such deep and generous support from our community, from our sponsors and from within the district.  As a grandparent of students in the district and as a volunteer, it's very affirming."
This year's celebration was live and in person at the Bunker Hills Event Center. "It was so much fun being together again in person with nearly 350 guests. The energy in the room was so positive," said Tess DeGeest, executive director of the AHEF.
The Northern Stars is an annual celebration of quality education in the district. This year's celebration included an online auction, dinner, fun in-person games, and a short program highlighting the impact donors have had by supporting student learning across the district. The program this year highlighted two students: Enzo La Hoz Calassara, who will graduate from Anoka High School this spring and has accepted a full ride scholarship at Dartmouth in the fall, and Matthew Ritter, a fifth grader in the Nebula Program at Eisenhower Elementary. Matthew spoke about the impact of a donor funded Mars Perseverance Program, and the difference it has made for him in pursuing his passion and interest in colonizing Mars and space exploration. These are just two of the 37,000 students in our district, who have benefited from AHEF funded projects.
The program was co-emceed by DeGeest and Kim Allen, the chair elect of the AHEF board of directors. Allen summed up her gratitude for AHEF donors by thanking them for "spending their Saturday night filling in the gap between what can be funded in our schools and what needs to be funded by community support." 
Funds donated will fuel innovation for students and staff. "Our sponsors and donors are the real heroes here, they are the ones funding new and creative tools, technology, methods and curriculum for our students," DeGeest emphasized.
Amazing musical entertainment was provided by current and retired Anoka-Hennepin staff and teachers. The Anoka-Hennepin All-Stars rocked out while guests sang along and danced to wrap up the evening's festivities. As they say, a good time was had by all.
Next year's celebration is set for February 10, 2024, at the Bunker Hills Event Center in Coon Rapids. "Events like this are a great excuse to dress up, go out, and have fun while raising money for a great cause, our kids." said DeGeest.
This year's sponsors included the Presenting sponsor, Metro Sales; Platinum sponsors Connexus Energy and the Ramsey Lions Club; Gold sponsor Wells Fargo Private Bank and United Healthcare; Silver sponsors, ATS&R and First Student; and Bronze sponsors, Anoka-Hennepin Education Minnesota, Scheller Legal Solutions, LLC, Anoka-Hennepin Elementary and Secondary Principals Association, Egan, and MidWestOne Bank. The dessert sponsor was Cory and Jennifer McIntyre. Table sponsors included Interim Superintendent Kate Maguire, Barna, Guzy & Steffen, Tony Drews, Felhaber Larson, Northeast Bank of Minnesota, Wold Architects, Waste Management, High Point Networks, Horace Mann, and Jorgenson Construction. The Program Sponsor was Delta Dental, and the Valet sponsors were Mike Kraft Architects and Anoka Rotary. The North Metro Mayors Association was an in-kind sponsor.